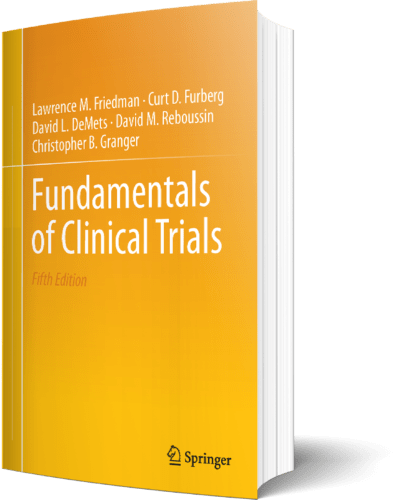 Fundamentals of Clinical Trials
Lawrence M. Friedman, Curt D. Furberg, David L. DeMets, David M. Reboussin, and Christopher B. Granger
Fundamentals of Clinical Trials is a book published by Springer in 2015 (5th Edition) and written by Lawrence M. Friedman, Curt D. Furberg, David L. DeMets, David M. Reboussin, and Christopher B. Granger.
Book Purpose & Audience
Fundamentals of Clinical Trials seeks to help clinical investigators in improving the quality of their clinical trials by discussing fundamental elements of clinical studies with real-life examples. 
This book has in mind clinical researchers with some clinical trial expertise and those who are planning their first clinical trial.
Moreover, this volume can be used to teach basic clinical trial methods and to help the medical community involved in assessing published reports of clinical studies.
This book is not deeply technical, but it can be useful as a guide for graduate courses in clinical research.
Book Contents
This 550-page book contains 22 chapters covering the following topics:
Introduction to clinical trials

Ethical issues

What is the question?

Study population

Basic study design

The randomization process

Blinding

Sample size

Baseline assessment

Recruitment of study participants

Data collection and quality control

Assessment and reporting of harm

Assessment of health related quality of life

Participant adherence

Survival analysis

Monitoring committee structure and function

Statistical methods used in interim monitoring

Issues in data analysis

Closeout

Reporting and interpreting of results

Multicenter trials

Regulatory issues
About the Authors
Lawrence M. Friedman: North Bethesda, Doctor of Medicine.

Curt D. Furberg: Professor Emeritus, Wake Forest School of Medicine, Division of Public Health Sciences.

David L. DeMets: Professor Emeritus, Biostatistics and Medical Informatics Department, School of Medicine and Public Health, University of Wisconsin-Madison.

David M. Reboussin: Professor, Biostatistics and Data Science, Wake Forest School of Medicine.

Christopher B. Granger: Professor of Medicine, Member in the Duke Clinical Research Institute, Department of Medicine, Duke University School of Medicine.
What Do You Think About This Book?
What is your opinion about Fundamentals of Clinical Trials? What did you like most? What are the strengths and weaknesses of this volume? 
Please share your comments below and give a more complete perspective to the clinical trial community!